What is cloud ERP software, and why do you need it?
Here's the truth:

Right now, you're either having an advantage in your industry or getting left behind. That's why everyone is looking for ways to improve efficiency, increase revenue, and gain a larger market share for their organization.

An effective, cloud-based enterprise resource planning (ERP) software solution can be the solution you need. And we are here today to explain you what is this, why do you need it and which advantages you can gain with ERP Cloud solution.

So, let's take a moment to learn about cloud-based ERP software and the ways it can help your organization or a company.

What is an ERP platform?
ERP software is an intelligent system that integrates all the core functions of your organization into a single software platform. As a result, an ERP system helps your organization work smarter by enabling easier collaboration across business units, increased visibility of essential real-time data, and improved efficiency through automation.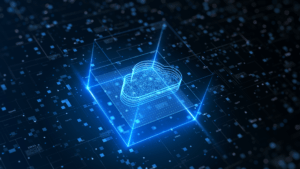 What is a cloud-based solution?
"Cloud-based" means that applications and resources are available to users via the internet from a cloud computing provider's server. Cloud-based ERP software is different from an on-premise solution that requires you to have technology on-site and a dedicated IT team.
There are some pretty clear advantages to cloud-based solutions. Cloud-based ERP software decreases IT costs, and the ERP software provider handles oversight. It's a solution that will free your organization to focus on your core business – while saving time and money.
Why do you need cloud-based ERP software?
As an organization grows and evolves you might need some technical help and support. Each business unit often implements individual software solutions to manage data and essential processes effectively. As time passes, it becomes more challenging for these growing business units to collaborate and "speak the same language."
Trying to understand the effectiveness of a given area can often mean hours of mining for information. Attempts to export data from one system to another with incompatible software can become a hairball of a mess.
In this situation with a mess with the workers, money and paper work, you will not be able to manage everything at the same time.
So here comes ERP Cloud, which will put all the things in a right way.
What are the main benefits of Cloud ERP?
There are many reasons why a company might move to cloud ERP, but we choose the most important ones:
Upgrades and maintenance
Since the vendor hosts and maintains all the system infrastructure, businesses don't have to worry about upgrades or upkeep of their ERP software. The provider maintains the database, servers and other infrastructure and automatically pushes out new updates or patches to all customers, ensuring the software is secure and in compliance with all applicable rules and regulations.
Security
Some businesses are worry of placing their financial data in the cloud, most often citing security concerns. While some often see this as a disadvantage of cloud-based ERP systems, the security of cloud-based software is often superior to that of on-premises ERP systems.
Implementation
Cloud solutions can be configured and deployed significantly faster than on-premises systems, with most taking fewer than 100 days. This is because the vendor is responsible for activating the hardware and software.
Real-time analytics
Cloud ERP delivers real-time data better than older systems because of ERP software. Since the applications and information are hosted in a central cloud location, the information provided is always up to date.
Accessibility
Cloud ERP systems are accessible from any device — laptops, smartphones, tablets — with an internet connection and a browser, making it possible to input, compile and collaborate on data from anywhere. That allows different departments or business units to work across company campuses or countries accessing a single instance of the software without needing a dedicated VPN as with on-premises systems.
Which components has Cloud ERP Software?
ERP Cloud software provides core financial and accounting functionality. From there, the types of modules or applications can be different, all depends on its industry and specific business needs.
Available cloud ERP modules include:
Financials and accounting
Human capital management (HCM) and/or Human resource management software (HRMS)
Customer relationship management (CRM)
Inventory management
Order management
Procurement
Supply chain management
Project management
Material requirements planning (MRP)
Hope that today we explain you a bit more about  enterprise resource planning.
Are you interested in our services?
Contact us